The history behind a Christmas card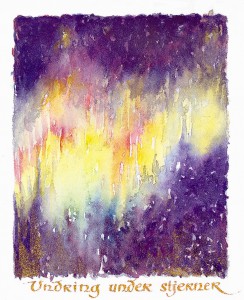 'Julekveldsvisa' The carol of Christmas Eve' has followed many of us since we were children. During my first years as a watercolour painter my motives were for a period special, old houses. From wanderings in the 'old houses' street 'Øyragata' in Lærdal, my heart felt for one particular house. It stood out as the poet Alf Prøysen's house in his home village in Ringsaker in east Norway. A small, redpainted house with friendly windows. This house in my mind 'became' the house where 'Matja the midwife' lives. The Star shone on the roof of her house. The neighbour's house were included, like a side scene. The house is white with innumerable small windows. Oda and Bjørg Ellinor, two of my grandchildren, are singing as they are walking with christmas presents to the child.  The title of the painting has always been 'The Midwife Lane'. This was one of my earliest Christmas cards.
Some time later I got to know that in the white house actually the midwife of Lærdal and in the little red house lived the child minder of the Lindstrøm family (the hotel owner nearby)….. 
Yes, that was the first time the Christmas star shone,
and later it has been shining in all the countries of the world,
and whatever happens the star is as great as ever
– you'll see her over the roof where Matja Midwife lives.