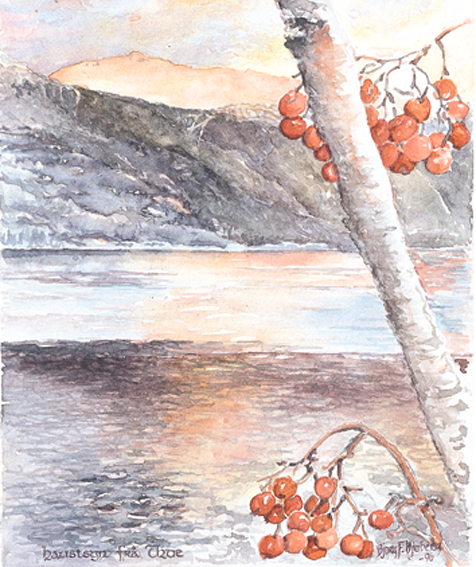 A little push upwards
Categories: Uncategorized
 
The big difference
Some times when you are mountain hiking, and really tough uphills, like often here in the west…. it is good with a helping hand. Some years ago, I had some hardships with my body, knees and hips, it made me old before the time. It  was in the Autumn and three sweet grandchildren were visiting. Solveig, my eldest daughter, is of the hiking in the mountain type, and they pulled me to go with them! Tjuatoten was the goal… for the young ones. My goal was Mastefestet over Tjugum (300 m). Beautiful view, first lunch pause with tea on thermos. 'You can come with us a little farther, can't you, Mormor? Åsmund the smallest, tempted as good as he could. It reminded me a little of the time when Solveig and her  brother and sister were small and we try to tempted them with oranges to go a little longer…..in Easter tours on ski in the mountains.
Further upwards through the birch tree hills life was tough. My body was aching and! The others did not want to go without me, and I felt like challenging myself to the uttermost limit. Arild Julius, 13-years grandson, said the solution words: Bjørg and Åsmund can pull you upwards where it is too steep for you, Mormor! And I can give you a push from behind! We reached the top! The experience og my life. My greatest victory in the hills! On the summit it was windy and a bit cold, yet it was so warm with such a support ive and cheering group!
Little is enough
to make life easier for your fellow men
Even you might not be the strongest
…you might be stronger
                           than he who is weak
                            You can make the big difference
Tjuatoten (50-1098 m.o.h.)Tjuatoten is a mountain at Dragsvik,Balestrand. It is a hard hike up to the summit, where you get a magnificent view over Sognefjorden, both over to the Vikafjell mountains and in to Fjærland and Leikanger.
This post is also available in: Norwegian