Nearly there!
Categories: Uncategorized
Well begun is half done… half done and a bit more…  …
I so dearly want the flowers to climb, as they really did in that mountain rock. A foxglove grew out from a cleft in the gneiss stony wall. The birdsfoot's trefoil crept over from the ditch into the roadside undernesth the shadowy wall. The butterflies flattered and landed on the delicate stems of the harebell where she unfrightened of hights climbed all over the rock…. The Mountain cranberry grew from poor soil on the on the very edge og the rock and the hip roses behaved as if they were Queen of the settlement! Celebrity
. tyttebæra vaks utav ei liti von på hamrane ved stupet, og klungerrosene, ja, dei oppførte seg som heime og eigarar av heile bergknausen! Men den mest selebre gjesten var dei kvite orkideane, som sende sin eksotiske duft i kveldinga; Nattviol herself!
Dei daglegdagse…dei trugne trælan, som gledde oss mest heile sommaren i gjennom… engsoleien og storknebb! To motpolar i fargesetteing men i fredeleg samhald og i samhandling med Marikåpen. Tenk for eit samarbeid og korleis ein i felleskap kan 'kle berget'!
Vi har mykje å lære av bergaklatrarane….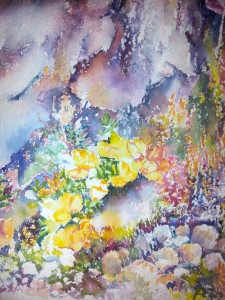 Lykke
er når vegkantane
kjem deg i møte
og soleiene spring ut
i tusen blomesmil
i midtsommardagen
Når blåklokka
gjev oss ei lekse
i klatrekunst og vågemot
Lykke er
når sommarfuglen
flagrar og ønsker
Lykke til!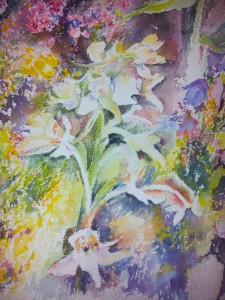 Sommarregn
er det
beste
eg veit
…
nest
etter solskin