We reached the destination!
We went on a path together. One after another… and another …. from the beginning to the goal. This goal was the Worry Tree on the Kvamsøy island. We all managed to complete the pilgrimage…. 
We had each our thoughts whilst wandering….
We were still sometimes…listening to the sounds of nature. We were pondering about the coloured play we heard along the path…. How small we felt looking upwards to the fur tree tops.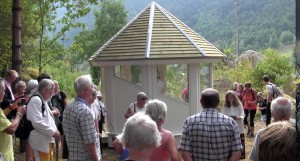 We sang together in the old Kvamsøy church.  We all listened to the same words….. as well as to the tones that filled the whole room. 
Deilig er jorden….'Wonderful is the earth' ….mostly used as a Christmas carol … today it became our Pilgrimage procession song…… on he path to The Worry Tree.
Sacred time is the word best covering the mood of this moment and of this day.
Thank you for sharing this day with us….