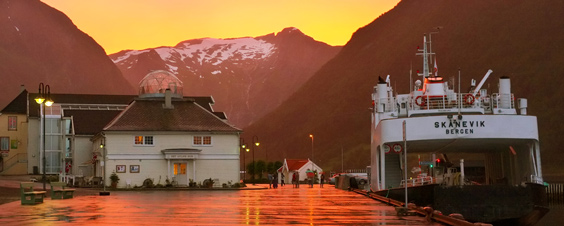 The golden house
Balestrand in summer is a meeting place for folks from the whole world. Our guests come by express boat or ferry, by coach, car or on two wheels. If you are coming, we wish you heartly welcome to pay us a visit!
You'll find us in The golden house in the heart of Balestrand. During the years this house has been renovated end rebuilt to earn many functions. The artist duo Bjørg Frøisok Bjøberg and Arthur Adamson have since 2003 owned the house and rebuilt it into a multifunctional house, with exiting exhibitions for Arthur's and Bjørg's art.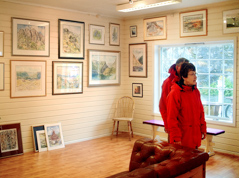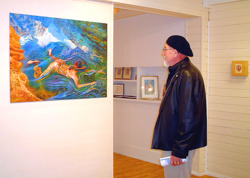 You'll find Bjørg's 'Golden moments art shop' with framed reproductions, small pictures, calligraphy and lots of cards, all reproduced from her art work: Souvenirs made in Balestrand by the local watercolour artist.
In the second floorArthur shows his exiting paintings in 'The fjord view gallery', and there are other interesting rooms with hidden secrets. One room is filled to the brim with artefacts from old Balestrand, 'Golden memories'.
In the film room,'The rainbow colours' we show our films which you'll find information about in the following pages.
Pilgrim restaurant and Cafe 'me snakkast' is styled like an old Norwegian home which creates a warm atmosphere from 'good old days'. We do our uttermost to give you a special time with culinary and colourful experiences.
Open every day in the high Summer season.
This post is also available in: Norwegian