The day was beautiful!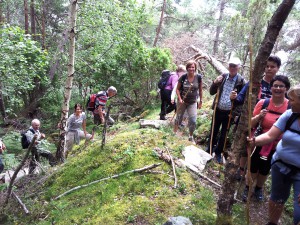 29. July will be written in the history book of Balestrand. The word pilgrim comes frå 'peregrino' which means to be foreign, to be in a foreign place. Forty pilgrims were walking into a good fellowship. We became friends in course of the four and a half kilometre's of walking. We got suitable weather for walking …. the day shone over tall fur trees, majestic oak trees, heather clad rocks and over joyful pilgrims. Nothing felt more correct than singing 'An die Freude' …. The wandering got some spice es from culture and botanic, as well as meditational whiles. The highlight for us in charge was the unveiling of a new sculpture….. More about that in the next 'Pilgrimage News' … Follow, follow!
The goal for the Pilgrim walk is the Kvamsøy island with the church from 1280 and the sculpture 'The worry tree'. Follow the next Pilgrimage news!!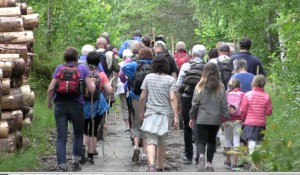 Don'nt ever loose the want to walk.
I get the best thoughts while walking
,
and no thought are so heavy
that you can't walk away from them
(These words from  Søren Kierkegaard
will be like a motto for all pilgrims….