Some small rain drops greeted us on the road…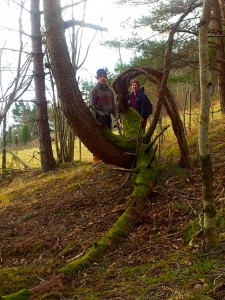 …they were not followed by so many others….. warm weather… Now was the day and time for survey and some meditation on the pilgrim path! They have been clearing and together with Jørgen investigated about where the best trace would be …… Today Ingvar and Arthur were to show me the work the three of them had done. I could feel they were anxious and eager to hear my opinion. …..
IT IS GOOD!… The path turns around stones, creeps upwards on lingon clad slopes, twines around antiquated pine trees. Next the path climbs uphill on rounded big stones covered by moss and lichen…. soft and meak under your shoes….stones like memorial monuments give thoughts about those who were wandering underneath  the same tree crowns as we are…. and saw the same fjord as we do. A small rippling brook gave accompaniment to my thoughts … it made me sing inside .. We have just been celebrating that our Constitution is 200 years.. in a service in the church, and the choir sang 'Old Norway, up north, is the land of our heritage' … with this in mind I become solemn and respectful to the nature where we are allowed to be pilgrims …..
Some stones are boundary markers
that tell about the farm's history
Some stones are brick stones
for stones walls around a field
Other  stones are in the brook
and have got rounded shapes

from joyful play with water
Then there are the old roadside guard stones
like lace edge
at the road
Then tere is the stone you cannot
describe
It is high or small 
knotted or smooth
rounded or flat
and you can not
be wrong when you see this one
It is the resting stone
for your lunchpack
or your meditation
::::::