The Queen of Foxgloves!
Never had I seen foxgloves before I moved to the West. The white variant stands for me like a queen among the foxglovesHo er rein og skjær, nobel og opphøgd. She keeps herself a little aside from her 'fellow men', but she does not hold herself too fine to grow in the roadside ditches or in mountain cracks, where the soil is poor. Together with the more brilliantly coloured 'Digitalis purpurea' … I see them like a married couple.
I see the foxgloves a little symbolicly: They shed over us good gifts from above. We do not see what they contain, that is hidden deep inside. For me it is a beautiful thought..and in addition they are a sight for gods .. 'eit syn for gudar'!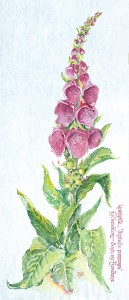 Drops
water drops
rain drops
tear drops
many small drops
the drop that flows over
the water drop cleanse the body
the rain drops nourish grass and bloom
the tear drop purifies the mind
the dew drop lights into your soul
drops for life